Give Employees Meaningful Work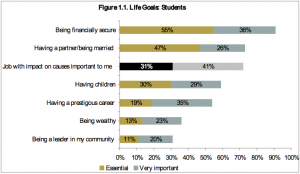 Here's an interesting report from Net Impact on employee attitudes towards meaningful work:
"We see these satisfaction levels reinforced when digging into ways people feel connected to impact through their jobs, too. For example, 45% of employees who say they worked directly on a product or service that makes a positive social impact report being very satisfied with their jobs, compared to 29% of those who don't. The research finds similar numbers for people who provide input on sustainability or corporate responsibility issues at work or volunteer alongside their co-workers."
SmartPlanet's Want to attract and keep talent? Give employees purpose provides an overview of the report and you can also look at the full report here: Talent Report: What Workers Want in 2012.
This greater idealism in the younger generation gives me hope, and I'm trying not to see it cynically as young people before their ideals are ground out of them, but instead a marker of a true generational shift.
Let's hope so.
The "Hybrid Ideal"
The "hybrid ideal" – the hypothetical organization that is fully integrated—everything it does produces both social value and commercial revenue.
"In Search of the Hybrid Ideal" is a great piece by Julie Battilana, Matthew Lee, John Walker, & Cheryl Dorsey in the Stanford Social Innovation Review that looks at "hybrid organizations" – entities that work towards well-defined social missions while also earning revenue.
The article provides good introductory background and then concentrates on four major challenges to running these types of organizations:
* Legal Structure
* Financing
* Customers and Beneficiaries
* Organizational Culture and Talent Development
Those of you who know me, may also know that I spent 9 years of my life running precisely this type of organization – a mission-driven technology consulting shop, called Groundwire. The challenges that this article outlines are bang-on.
This is a deep dive, and not for everyone, but if you are interested in understanding this burgeoning area, I highly recommend you read this piece all the way through.

Winning the Story Wars
"This is your call to adventure, the call to enter, and win, the Story Wars."
I've known Jonah Sachs peripherally now for a few years, but finally got a chance to spend some real time with him last fall at Web of Change.  He is one smart cookie and a heck of a nice guy. You may know his work through his organization, Free Range Studios, creators of The Meatrix, The Story of Stuff and numerous other wonderful visual stories.
Well, Jonah is finally spilling the beans about how stories and myth create our modern reality – in a new book called Winning the Story Wars. Here's a great teaser for it:
Contextual Computing Phone
High speed mobile Internet, geo-tagging, HTML5 and the "Knowledge Graph" will come together to radically change how we compute. I like to call it contextual computing because, being mobile by nature, it will help us process the physical context that surrounds us.
This is a big vision that I've been thinking about for the past year or so, dribbling out bits and pieces here in articles like Place is a Tag: How Our Phones Should Work, as well as Place-Based Networks: A New Kind of Social Network, and even Google Tiers Search into the Global, Social and Personal.
I've decided that I will be tightening the focus of my writing and of my work more generally over this next year, and so have decided to cast the seeds of this "contextual computing phone" idea to the wind in the hopes that someone will pick it up. So last week, I set it free by outlining some of the key ideas in a very rough post called "Contextual Computing Phone" on Google+.
The Rise of the New Economy Movement
There is lots of interest these days in building a new economy. In The Rise of the New Economy Movement, Gar Alperovitz provides a good overview of many of the different aspects of this movement and some of its biggest challenges.
Just beneath the surface of traditional media attention, something vital has been gathering force and is about to explode into public consciousness. The "New Economy Movement" is a far-ranging coming together of organizations, projects, activists, theorists and ordinary citizens committed to rebuilding the American political-economic system from the ground up.
I am very interested in this movement. It is diverse, growing and focused on some very important issues.
Most serious proponents of the "new economy" ideas aren't talking about ending capitalism, but reforming it. It's not about doing away with markets, but making them work better.
Over the last 30 years or so, the operating instructions for businesses have been hijacked to one end: maximizing returns for shareholders, and that, perhaps more than anything, has led to some very harmful societal and ecological consequences. Shareholders deserve returns, to be sure, but that cannot be the sole reason for a firm's existence.  It is this assumption – the assumption of shareholder primacy – that many, including myself, are now questioning. There are other forms of ownership, alternatives to the publicly traded company that do nothing to disturb the profit incentive, the power of the market or any other fundamental underpinning of capitalism.
There are many wings to the new economy movement, but this is the one I personally find most interesting.
The Philanthropic Complex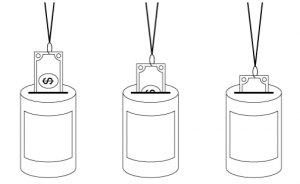 "The Philanthropic Complex" is a harsh, yet I think very fair, assessment of modern philanthropy and the social change sector.
I spent 10 years working on social change, and while there are notable exceptions, the issue of philanthropic accountability is a huge and very unpopular problem to talk about.
This piece goes even further, arguing that the sources of the philanthropic endowments make it difficult for those associated with foundations to "bite the hand that feeds it" in curbing many of the corporate excesses needed to solve many of our largest societal problems.
My personal experience is that it is more subtle than this. I think that trustees often hire the same personality profile in their program officers that they use to hire with their wealth management advisors. Diversification, quantification and measurement, asset preservation and risk management – these are smart attributes of smart people, but they don't always lead to optimal choices for social change. I also believe that many well-meaning trustees come under very subtle forms of social pressure from their peers outside the foundation, and that these difficult-to-see influences work in very quiet ways to shift the funding decisions of big philanthropic entities.
The one thing I think this article really nails though is the issue of accountability. There are great examples of foundations (particularly here in the Pacific Northwest) that do evaluate themselves through anonymous grantee assessments – and publicize the results. Unfortunately, this is still relatively rare across most of the philanthropic sector, making accountability a serious issue – and one that is very difficult to talk about.
The Power of Networks
This is a really nice overview of the power of networks. Are networks truly the universal structure?
There's a great part in here about shifting our view of biology from a "tree of life" metaphor to a "web of life" metaphor, based on all the bacteria that make up our body and the bodies of other life forms around us.
That's cool.