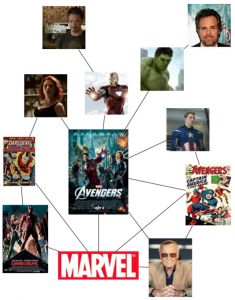 The Knowledge Graph Will Make the Web More Like an App
I'm really excited about Google's announcement last week about the "knowledge graph." This is a big deal. In my opinion this is the beginning of the semantic web.
About twenty years ago right after graduating from business school (yep I'm dating myself), I had the lucky opportunity to work in Microsoft's new "multimedia publishing group." This was a very creative and entrepreneurial unit within Microsoft that created some truly wonderful CD-ROM multimedia titles. The most famous was Encarta, the multimedia encyclopedia, but there were some other really impressive titles, including "Cinemania" (a wonderful precursor to IMDB) and "Music Central" (an amazing music database, that in some ways was a precursor to services like Rhapsody and Pandora).
Working on these titles taught me what happens when you organize content by giving it structure and meaning - which is exactly where Google is now headed. What you get when you do that is an application – a knowledge application, or an 'application of knowledge.' In the case of those CD-ROM titles, we were able to create really fast filtering of movies, by director, genre, rating and so on. That's because all of the content within Cinemania was "marked up" using something called SGML, and doing that embedded meaning into the content. "Alfred Hitchcock" wasn't just two words that appeared next to each other; we knew it meant a film director.
Of course, IMDB does much of this today, but it lacks the amazing interactivity that the speed of CD-ROM access made possible. That speed really changed the way you interacted with and experienced the information – making it much more visceral. That's all going to change as HTML5 gains adoption across the web. Combine HTML5′s ability to creative really engaging, interactive user interfaces with the increasingly structured data now emerging in the knowledge graph, and the web is going to become more and more like an app – and hopefully without taking us down the increasingly proprietary path that iPhone apps have started to take us.
If you haven't yet seen these applications of structured search from Google, it's worth playing around with them a bit. It will give you a taste of the future:
The Rise and Fall of Flickr (and CarPoint)
Mathew Honan has a killer article on the rise and fall of Flickr. It's a passionate piece (with lots of swearing thrown in). I found myself becoming unusually sad reading it, because it reminded me of some personal experience.
Back in 1994-98 (after working on the multimedia CD-ROM titles), I ran a development team in Microsoft that built a truly wonderful car-buying service called CarPoint. Some of you may remember it, as it was pretty well-known at the time;  we served several million people and generated over $600 million in automotive sales – every month. More than that though, this service had some of that same heart that was so visible in the early days of Flickr, which Matt describes so well in his piece.
After I left the team, the CarPoint service was "integrated" into the MSN portal and became "MSN Autos." Much of the corporate infighting, centralized strategery, resource-scarcity, and other things Matt describes happening to Flickr also eventually happened to CarPoint. Today, like Flickr, it is a shadow of its former self… the victim of residing within the failed strategy of a much larger corporate bureaucracy.
CarPoint was born in a period of relative entrepreneurial freedom at Microsoft, which is different from how Flickr came to life. But the results were uncannily similar. As Matt shows in this great article, it is a story that is, unfortunately, all too familiar in business today.
An Online Influence Bubble
There's lots of talk these days about Klout (and I'm working on a bigger piece about the service which will come out in a few days). While there are lots of issues people have with the service, the one that seems to cause the greatest discord centers on the notion of "influence" in the distorted reality that is the Klout Universe.
One example cuts right to the heart of the problem: Justin Bieber outranks President Barack Obama on Klout.
Really? Surely, in this case, the king actually does have clothes, and it is the shouting young boy who does not.
To understand what's going on here, let's look at what it means to have influence – according to Klout. Klout's website says that influence is "the ability to drive action." You can have lots of connections, but if you can't get them to act, well, you don't really have influence.
That makes sense, and I think it's actually a pretty good definition of influence.
So how could it possibly be that an 18-year-old pop singer has more influence, which is to say, he "drives more action" than the President of the United States?
I would suggest that this is more than just a Bieber Bubble; it's bigger than that. It's an influence bubble, and it pervades our online social networks today.
I'll explain what I mean by using myself as an example, so as not to offend anyone other than myself. Right now, I have a relatively high Klout score. Why? Because since stepping down from running Groundwire two years ago to focus on writing, I've spent a lot more time on online social networks. Do I really have more influence now than I did in that job? I'd say it's debatable, I mean at least from the perspective of being able to drive action in the real world.
In short, my online influence has become inflated relative to my offline influence. I believe there are two main reasons for this. The first is that we are currently experiencing a social media bubble. The second is that online influence is digital influence, and digital influence is based on data that can be more easily captured and quantified.
Recalibration Will Come…
Here's my prediction, the online influence bubble will inflate a bit more. And then … it will pop. I don't know exactly how it will pop, but it will eventually pop. Bubbles always, eventually pop.
Social network technology will one day become an older, more established technology – just as all technologies do. And when that happens, and the hype around social media subsides, it will be easier to better calibrate online and offline influence.
Offline influence can be subtle and behind-the-scenes; it can't be easily packed into algorithms like our tweets, plusses, likes and shares – which makes it harder to measures in standardized ways. But that won't stop us from trying. Without getting too scifi, let's just say that continued improvements in mobile computing, voice and facial recognition technology all present interesting pathways for better tracking of our offline influence.
Influence and money are deeply intertwined, so there will always be huge incentives try to quantify it.
So, eventually, I believe there will be a re-calibration between our online and offline influence, but mostly in the sense that they will gradually merge as the latter becomes increasingly trackable.
In the meantime, we are left living in an online influence bubble, where Justin Bieber is more influential than the President of the United States.
The Future of Market Research
Finally, take a look at where market research seems to be headed. I have yet to play around with this service myself yet, but if it's as good as it looks, this could really change the way marketers work to understand customers.
King image: http://www.flickr.com/photos/oknovokght/2189461072/